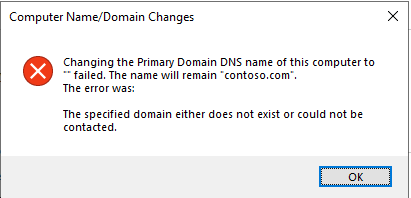 실제 join 동작은 전혀 문제 없습니다.
기술자료 서치시 아래와 같은 자료는 확인 되었습니다.
Changing the Primary Domain DNS name of this computer to "" failed.
https://blogs.technet.microsoft.com/instan/2012/01/14/changing-the-primary-domain-dns-name-of-this-computer-to-failed/
This is a bogus error message that can be safely ignored - it's caused by the domain join code ending up in a function which it doesn't need to run anyway during a domain join operation using the GUI.
What's failing is the attempt to change the Primary DNS suffix of the machine after the domain join has succeeded - but the Primary DNS suffix is already correct at that point which is why this can be ignored.
AD 서버 DNS에 조인하는 시스템이 사용하는 IP 대역에 대한 '역방향 영역'을 추가하면 해당 오류는 해소 됩니다.
도메인 조인시 자신의 호스트 이름과 IP를 AD DNS에 등록하는데, 정방향은 있지만 역방향 조회 영역이 없어 역방향 조회 레코드 등록이 실패하기 때문에 발생하는 오류 입니다. 정방향에는 정상적으로 등록되기 때문에 도메인 조인에는 문제가 없습니다.